Travel Tips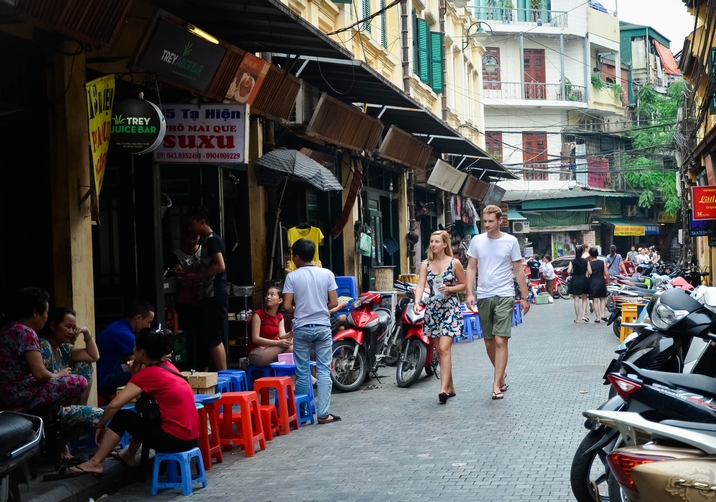 Hanoi streets are always busy and considerable chaotic. However, this characteristic allows travelers to get around by many different mode of transportation: cab, bus, motorbike, car, bicycle and of course on foot.
Taxi
Taxi is probably the most convenient way of getting around Hanoi and also the most expensive way. With the small streets in the old quarters, taxi sometimes has to go a long way to get around. Many of Hanoi destinations are in the city centre so it is good practice to plan destinations ahead so you will not double the distance.
There are many taxi companies operating in the city thus the chance of getting a shady taxi service is apparent, especially for tourists. Hence, it is recommended for tourists to ask for help from the hotel or hail taxi from reputable company like Mai Linh and Taxi Group. It is advisable to look for driver's uniform, name tag, company logo and phone number as well as the price clearly indicated.
Bus
The Hanoi public transport system is yet to fully develop to get around the city conveniently. However, with a little bit of patient and a lot of body gestures, getting around Hanoi on bus can be quite exciting. From the old quarter, tourists can take bus from Long Bien bus station to go Bat Trang ceramic village with a cost of only 7.000VND, while a taxi trip can go up to more than 100.000VND. There are buses that take you to the Museum of Ethnology or Noi Bai International Airport.
Motorbike/Bicycle/Car
In Vietnam, riding on motorbike is as easy as ABC. There is no surprise that riding on one is the easiest way to get around Hanoi. Some hotel provides bike rental so traveler can easily obtain one. If not, there are many shops that rent out motorbikes in the Old Quarter area. With a motorbike, travelers can access the smallest and difficult streets that cars cannot go in. There are many shortcuts that help escape the busy rush hour of Hanoi streets. Bicycle rental is also available in the Old Quarters as well as car rental. However they are not as popular as motorbike rental.
Walking
Walking is probably the cheapest, most sensible and easiest way to get around Hanoi. The streets of Hanoi is often small with many small shop houses around. Thus they captivate and demand attention from visitors. Walking makes it easy to stop and feel and buy the many pretty things display on the streets. Of course, walking in Hanoi can be a heart racing challenge especially for first timer crossing the road. A rule of thumb is to keep walking, the vehicles will eventually find a way around you. Hesitant to cross might prove to be dangerous on the street of Hanoi.