In February we have made a donation of 6,000,000 for two poor families in desperate condition in Thai Nguyen and in Yen Bai, two rural northern provinces of Vietnam.
Thai Nguyen: 12 year old girl and 7 year old boy live with a mentally disabled father and abandoned by mother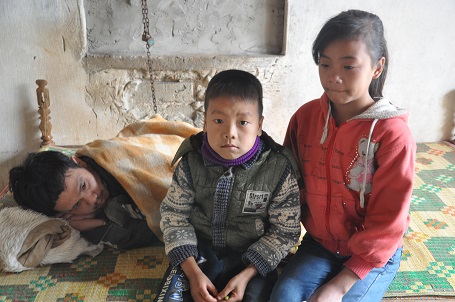 After a fever, from a healthy man, the father abruptly suffers from the mental illness. The mother, at the sight of the family's desperate plight, left her small children and the disabled husband, walked away without saying anything. This is an unfortunate circumstance of Phan Thi Hong Hanh - a 12-year-old girl residing in Dong Chay Village, My Yen Town, Dai Tu District, Thai Nguyen Province. Hanh is now living with her decrepit grandparents, a younger brother, and a psychiatric father. The family of 5 people is largely dependent on the below-average income of grandparents. Living in poverty, Hanh and her 7-year-old brother have to take a part-time job afterschool to earn extra income. A simple dream of the girl, who is at the school age, is just to have enough money to go to school so that she can take a good job to support her father in the future. Contributing to make this humble dream become true, Blue Dragon Tour supports 3,000,000 VND for the family and wishes that the girl will succeed in their learning and can support her family in the future.
Yen Bai: 80 year old granny supports her three children by collecting wild rocks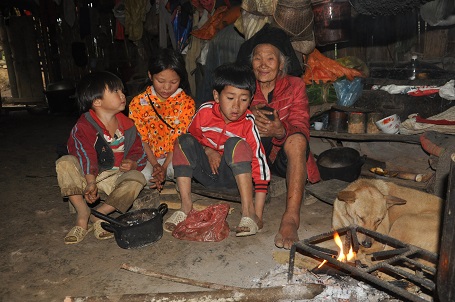 At the age of retirement, Ms. Trieu Thi Khu, who is living in Nam Chau Village, Nam Bung Town, Van Chan District, Yen Bai Province, still has to work hard to feed her three orphaned grandchildren. No matter whether it rains or shines, this 80-year-old woman daily goes up to the mountain, collects iridescent rocks, and sells it at the price of 10,000 VND (around US$ 0.5) per kilogram. According to Ms. Khu, for a lucky day, she can collect one kilogram of this rock, but normally, only 3 – 4 ounces a day. With the income of 3,000 – 10,000 VND for four people, Ms. Khu and her children are living in an extreme poverty. Living in a dilapidated house is a sickly old woman with two children in the school age and one 4-year-old infant. Innocent eyes still blaze and smiles are still bright in spite of the plight. Understanding the importance of learning, Ms. Khu still encourages her children to go to school. Despite facing life with a positive attitude, she always wonder "Who will take care her children after she dies?" To empower these positive people, Blue Dragon Tours supports 3,000,000 VND and hopes that this amount will somewhat temporarily help them to overcome the difficulties.
*If you are interested in donating directly to these families, please contact us to get their contact.*