Where to stay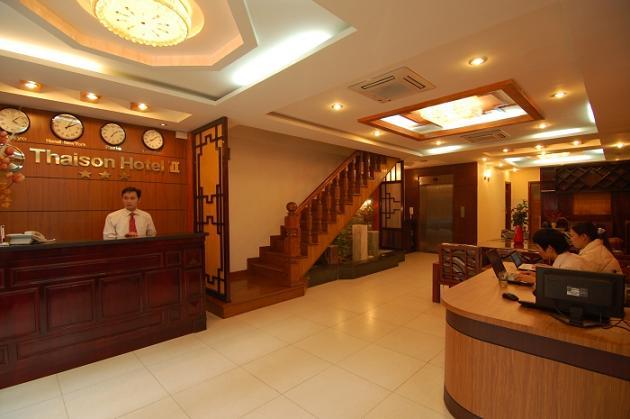 Thai Son Hotel Group is a locally-owned hotel group with prime locations in the Old Quarter. The local group takes pride in their localized service which has received many awards from the authority and the travellers. They have two hotels which are:
Thai Son Palace Hotel
Address : 9 Hang Voi Street, Hoan Kiem District
Thai Son Grand Hotel
Address : 35 Hang Mam Street, Hoan Kiem District
Despite the different location in the Old Quarter of Hanoi, the Thai Son hotel group has pretty much the same room types in each of its hotels. There are even six room types for your individual needs. They are Suite Room, Family Room, Twin Room, Triple Room, Double Room and Single Room. The room size is quite small, however does not compensate that for the comfortability of its patrons.
If you travel in a medium-sized group or with your family, the Suite Room and The Family Room with an average area of 40m2 is the right choice.
The hotels are both located at the heart of the capital. Thus, you have plenty to watch, eat and do. The city is crowded with its local charm. Here and there, you can spot street vendors with their special treats. Old men play Chinese chess on the pavement, kids run around laughing. It is not too strange to catch some people sitting down eating their breakfast, lunch, dinner and even night supper right on the pavement. The streets are in rush most of the time. You need to be careful for such a traffic rush but it is a good sight to put on your footage about the holiday.
From the hotels, you can walk to the night market in which you can find local crafts, cheap yet export-quality clothes, sugar cane juice, and spicy mangoes. If you have a big group, well only 3 or 4 is good. Let sit down for a steamy hot pot near the night market next to Dong Xuan market. There you can find a lot of fresh seafood simmered in a hearty broth. The best part is not even that. Order for a warm coconut filled with rice liquor then drink the nice away with this much exotic drink. It is alcoholic, sweet and wonderful.