What to eat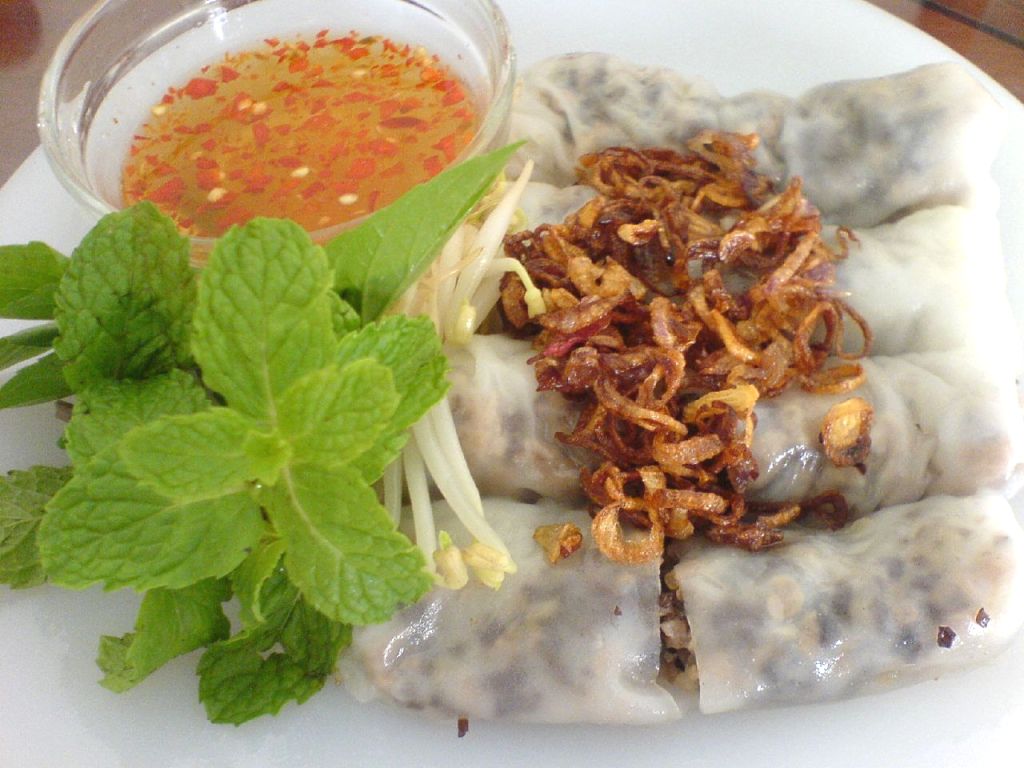 Vietnam is indeed the kingdom of rice where people uses rice in anything from breakfast, lunch, dinner then snack.
The simplicity of roll rice cake has attracted a colony of avid fans. Rice is finely ground then mixed with water in a customized ratio. The mixture then is left for a couple of hours so that the texture can get finer in the end. A steamer is put on the oven at the boiling temperature. The steamer was lined with either a thin film of cloth or a bamboo basket. Some oil is put on this cloth to prevent sticking. Then a table spoon of mixture is poured over the cloth. In order to get the cake out of the steamer, the cook would need either a big chopstick or a bamboo stick to gently remove it from the cloth. Some cakes can go on your own. You just need to add some black pepper, cilantro and fried shallots to layers of cake before dipping them into the fish sauce. A mellow melody of rice smoothness and salty sauce. It is so good that you keep munching until your belly is so full that you can not walk any more.
1. Address: 14 Hang Ga Street
The shop is Thanh Van rice cake. The success lies in the mellow texture of the cake. Another highlight is their filling. They have chicken mixed with ear mushroom. Fried shallots are always freshly made in the house. It would be a mistake not mention their shrimp shreds.
2. Address: 101 Ba Trieu Street
This shop has put the filling of the rice roll cake up to a level of diversity. The filling includes pork, egg, shrimp and mushroom. Their best-selling is the shrimp, pork and mushroom filling.It is worth a try to order a runny egg inside a delicate wrap of rice cake. Their sidekich food also boasts of the various choice such as sausage, squid cake and pork shred. Their fried shallot is so popular that you can order it as a side dish with extra payment.
3. Address: To Hien Thanh Street
The rice cake of Lady Hoanh is the unofficial trademark of this shop. Unlike the other two shops, rice cake here is thicker without any filling. The shop is proud of its sophisticated sauce with the addition of cinnamon pork cake and fried shallots. It is always packed thus the formula has proven to be indeed successful.